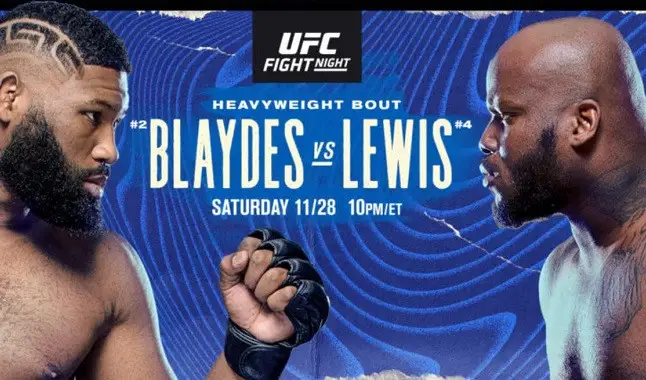 Know everything about the fight between Curtis Blaydes e Derrick Lewis for the UFC Fight Night.
On another Saturday full of attractions, learn all about the fight between Curtis Blaydes and Derrick Lewis, valid for UFC Fight Night. The fight will be fought between two Americans, at UFC APEX, in Las Vegas, United States.
In addition to the fight, which is a major attraction of the night, valid for heavyweights, this Saturday there will be another 6 fights for the main card and 6 for the preliminary card.
Blaydes is number 2 in the UFC heavyweight division, and will face Lewis, 4th in the ranking. This must be a very close fight and with great emotions, for which both must go with everything to win, looking ahead to the dispute for the belt, against Stipe Miocic.
Curtis Blaydes vs Derrick Lewis - Heavyweight
Curtis Blaydes
Blaydes or "Razor" as it is called, is now 29 years old and is a native of Naperville, Illinois, United States. Curtis is one of the main MMA fighters today, especially heavyweights.
Fighting professionally in MMA since 2014, he has 17 fights in his cartel. There were 14 victories, 10 by knockout and 4 by decision of the judges. In addition, he suffered 2 losses and a no-contest.
Razor's debut at the Ultimate Fighting Championship took place in 2016, having been won by Cameroonian Francis Ngannou, in his first career loss. In addition, in a rematch played in 2018, Blaydes was again defeated by Ngannou, reaching 2 career losses.
From his last defeat until now, Curtis comes from 4 consecutive victories, one of them against the Brazilian Junior Cigano. In his most recent match, he beat Alexander Volkov by unanimous decision of the judges.
Derrick Lewis
Lewis is much more experienced and has a longer cartel compared to his opponent. Also American, he is from New Orleans, Louisiana, United States. The "Black Beast", as it is known, is the 4th in the UFC ranking.
At the age of 35, he has 32 fights in his cartel, having emerged victorious on 24 occasions. Of their triumphs, 19 were by knockout, 4 by decision of the judges and one by submission. In addition, he has been defeated 7 times and has a no-constest on his resume.
Black Beast has been in MMA professionally since 2010, having started at Worldwide Gladiator, going through events like Bellator and Legacy FC. Making his UFC debut in 2014, he beat Jack May by technical knockout.
His last defeat happened in 2019, when he was beaten by Junior Cigano by technical knockout. However, since then he has won 3 consecutive wins. In his most recent fight, the fighter beat the Ukrainian Aleksei Oleinik by technical knockout, even breaking the UFC heavyweight record, with the highest number of knockouts, 11 so far.
Who will win?
This promises to be another attraction full of emotions, yet another great fight. They are two very strong fighters, two of the best in their category. You can expect a combat with a lot of blows without going to the ground. After all, these are two fighters whose main ability is to knock out the opponent, it will be the number 2 in the ranking against number 4.
However, Blaydes relies on favoritism in this fight. As such, Bet365 is paying the odd amount of @ 1.30 for Blaydes' victory. For Lewis's victory, the value is @ 3.75.
At
Betting Academy
you can find everything about UFC Fight Night fights, as well as
today's matches
, news about different sports, competitions, among others.