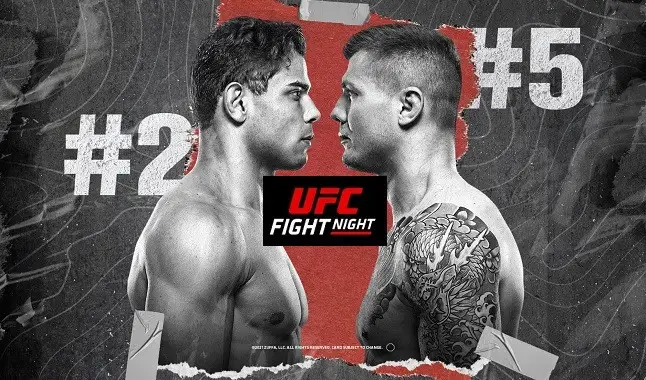 Complete card, information and betting tips from UFC Vegas 41.
Who is an MMA lover will not take his eye off the screen this Saturday (23), as we will have another UFC Vegas, at the Apex Arena, in Las Vegas. The 41st edition of the event will feature a Brazilian in the main event, Paulo Borrachinha, facing the Italian Marvin Vettori, at the middleweight. In addition to Borrachinha, Brazil will have another 6 representatives in the octagon, including debuts.

You can check our tips now! Good fights!
Join our channel on Telegram - Clicking HERE!
Rubber vs Vettori
All the eyes of the UFC will be on this fight, as both Paulo Henrique Costa, Borrachinha, and Marvin Vettori, have already competed for the UFC belt and enjoy great admiration in the Octagon. At the time, the two lost to the same fighter, the great Israel Adesanya, and now they are doing a tie break to see who is again able to challenge the champion.

In fact, this was the only defeat for Borrachinha, who has a record full of expressive victories. The most challenging will be the downtime, as he hasn't climbed the UFC's Octagon in over a year. These details could make a difference, as Vettori was in action in the middle of this year.

One thing to be aware of about the Italian is his fighting style, as his victories often happen by submission, and should be the strategy used against the Brazilian.

The fight is really balanced, and Vettori is even preferred in bookmakers, but we know Paulo Borrachinha's history well and we trust the Brazilian.

Bet: Borrachinha wins | @2.40 on Bet365
Check out all today's matches and follow them live!
Dawson vs Glenn
These two American fighters will fight at lightweight and will have one of the main fights of the event. One thing that perhaps no one disagrees with is that Grant Dawson arrives as the favorite, and it remains to be seen how he will achieve this triumph.

This has an explanation: he has only one setback in his entire career and presents a preparation not only technical and physical, but also psychological, when he climbs the octagon, being difficult to overcome him in this regard.

Rick Glenn, on the other hand, arrives for this clash with an important victory, but that is no guarantee of success, as the American has always lived with ups and downs in his trajectory in the UFC. He has more experience, and will try to exploit it as best he can, but the opponent undeniably comes in stronger.

Bet: Dawson Wins by KO, TKO, DISC OR Submission | @2.40 on Bet365

Negumereanu vs Villanueva
This is a fight that tends to be very interesting and we'll explain why. The main one is the clash of generations, as Nicolae Negumereanu arrives with his youth, great form and conquered results. On the other hand, Isaac Villanueva is a veteran of the Octagon, where he has experienced it all and has plenty of experience to deal with any adversity occasion.

But just talking about the moment, it is quite clear that Negumereanu arrives in better form, is aggressive, wins many times by knockout and has only one loss in his trajectory in the fight world. Villanueva is no longer at his peak, even though he is an interesting fighter, and he will have to overcome himself to be victorious.

Bet: Negumereanu Wins by KO, TKO, DISC OR Submission | @2.05 on Bet365

Main Card
Middleweight: Paulo Borrachinha x Marvin Vettori
Lightweight: Grant Dawson vs. Ricky Glenn
Bantamweight: Jessica Rose-Clark vs Joselyne Edwards
Featherweight: Alex Caceres vs. Seung Woo Choi
Welterweight: Francisco Massaranduba vs. Dwight Grant
Light heavyweight: Nicolae Negumereanu vs. Ike Villanueva
Preliminary Card
Middleweight: Jun Yong Park vs. Gregory Rodrigues
Lightweight: Mason Jones vs. David Onama
Strawweight: Tabatha Ricci x Maria Oliveira
Middleweight: Jamie Pickett vs Laureano Staropoli
Lightweight: Khama Worthy vs. Jai Herbert
Flyweight: Jeff Molina vs Daniel da Silva
Strawweight: Livinha Souza x Randa Markos
Bantamweight: Jonathan Martinez vs. Zviad Lazishvili

Bet on UFC fights through the best online bookmakers!