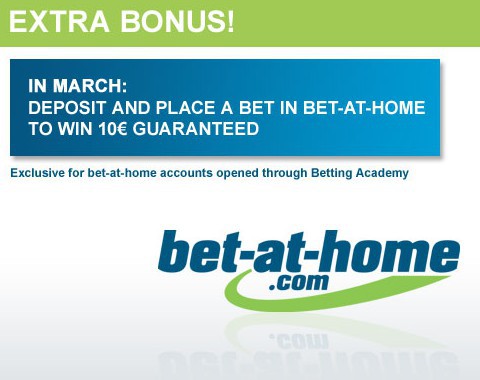 How to win this 10€ extra bonus
1.

You must have a bet-at-home account opened through our links (If you haven't got an account yet, open it by clicking the word bet-at-home);

2.

A minimum 10€ deposit in March 2016 is required;

3.

Place a minimum bet of 5€ in March;

4.

Write a comment on this article saying "I've made a deposit and placed a bet".
This extra bonus is an exclusive Academy offer and will be paid through Skrill and Neteller, 5€ in each account. The bonus will be paid until April 11th.
To get paid, submit your Skrill and Neteller accounts at the win Academy points page before the end of March.
Your Skrill and Neteller accounts don't need to have been open through our links, but if you open accounts through our links you'll get Academy points
Remember that to win this extra 10€ bonus you must make a deposit of at least 10€ in your bet-at-home account in March and comment on this article as explained before.
This offer is only available for bet-at-home accounts opened through our links, created before or just now.

You may accumulate this extra bonus with other bet-at-home offers:
As with all other offers, it's only available per one account, person, family, address or computer.